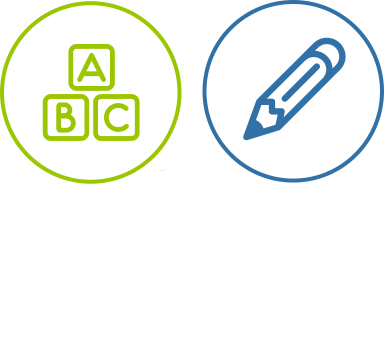 Includes 2 workshops
The award-winning Get Set for School® curriculum uses lively music and playful activities to teach number concepts, geometry, sequencing, phonemic awareness, vocabulary, and concepts about print.
The Get Set for School Pre-K Readiness & Writing Workshop is an introductory level class.
The K-5 Handwriting Workshop provides dynamic instruction in the teaching methodology from kindergarten through cursive. Includes an introduction to the developmental progression of written production skills, from handwriting to keyboarding!
The K-5 Handwriting Workshop is an intermediate level class.
Approved Provider of Continuing Education by the American Occupational Therapy Association, Inc.
Pre-K Readiness & Writing

Objectives
Plan your instruction based on developmental stages for writing readiness and to foster important social-emotional skills in a developmentally appropriate way
Use hands-on, multisensory activities to teach size, shape, and position concepts for pre-writing and sensory motor skills
Use multisensory activities and music to teach pre-writing, sensory motor, and coloring skills, while building habits for letter and number formation and lowercase letter recognition
Use My First School Book and Kick Start Kindergarten to help children progress from tracing their letters and numbers to writing their names in title case, and becoming familiar with lowercase letters
Included in Pre-K Readiness & Writing
3.5 Contact Hours
$145 in Free Materials:
My First School Book
Readiness & Writing Pre-K Teacher's Guide
Kick Start Kindergarten
Kick Start Kindergarten Teacher's Guide
Roll-A-Dough Letters®
Stamp and See Screen®
Mat for Wood Pieces
Wood Pieces Set for Capital Letters
Slate Chalkboard
Access to Get Set for School music

Canvas Bag
K-5 Handwriting

Objectives
Implement, teach, and remediate handwriting using effective, step-by-step lesson plans that incorporate active teaching, multisensory strategies, and differentiated instruction
Promote independent writing skills beyond handwriting workbook instruction
Use the Handwriting Without Tears unique instructional approach, stages of learning, and our two handwriting assessments (the Screener of Handwriting Proficiency and The Print Tool®)
Navigate the Handwriting Without Tears digital teaching technology and hands-on resources to facilitate engaging lessons
Included in K-5 Handwriting
6.5 Contact Hours
$1,500 in Free Materials:
Kick Start Kindergarten
Letters and Numbers For Me
My Printing Book
Printing Power Plus (Printing Power and Kick Start Cursive)
Cursive Handwriting
Cursive Success
Can-Do Cursive
HITT (Handwriting Interactive Teaching Tool™) (TK and K–4 versions)
Building Writers (K–5)
Blackboard with Double Lines
Access to Handwriting Without Tears music resources
Day 1
8:00 a.m.
Registration: Coffee and pastries
Get Set for School: The importance of a hands-on multisensory readiness curriculum to prepare children for school success
Pre-K Readiness: Social skills and the developmental stages of writing, hand skills, and crayon grip
Drawing: Mat Man®, shapes, music, and demonstration
Break
Alphabet Knowledge: Hands-on materials, My First School Book, capital and lowercase letter recognition
Colors and Coloring: Crayon skills, developmental progression from scribbling to coloring and drawing
Pre-Writing: Wood Piece Play for capitals, multisensory activities for capitals
Writing: Developmental teaching order, trace capital letters, write names, number skills, and formation
Review and Resources: Review what you have learned, check readiness, additional resources for continued learning
12:00 p.m.
Adjourn
Location & Lodging
Doubletree Dallas-Love Field
3300 W Mockingbird Ln
Dallas, TX 75235
214.357.8500
**Learning Without Tears does not reserve a block of overnight rooms**
Directions
DAL - Dallas Love Field
Distance : .5 miles
Exit airport Mockingbird East. Turn left on Mockingbird Lane. The hotel is on the right.

DFW - Dallas/Fort Worth International Airport
Distance : 20 miles
Take South exit from airport. Take 183E towards Dallas. Exit Mockingbird Lane. Turn left and continue for 3 miles. Hotel on right just after Love Field airport.

Parking: Call the workshop venue for more information regarding parking availability and fees.

Dining
Lobby Café
– on site
Sports Page Grill
– on site
Burger King - 3020 W Mockingbird Ln, 972.357.3020
Popeye's Chicken & Biscuits -6502 Lemmon Ave, 214.350.8675
Subway - 6410 Lemmon Ave, 214.351.6738
Ruth's Chris Steak House - 5922 Cedar Springs Rd, 214.902.8080
Kobaoo Korean Restaurant - 3109 Inwood Rd, 214.351.6922
Taco Bell -3127 Inwood Rd, 214.350.2897
Policy/Contacts
Register online and provide us with your email address and we will email you a confirmation and receipt when we process your registration. We will then email you workshop details 10 days prior to the workshop date. If you do not have access to an email account, we will mail you your receipt and workshop details 10 days prior to the workshop date.
We accept school purchase orders via mail and fax. Download Registration Form
If you have any special requests (preferred area, handicap access needs, etc.) please call our office (402.492.2766) to discuss these requests.
While we make every effort to conduct professional learning events on the dates and locations advertised, they are subject to change without prior notice. Learning Without Tears reserves the right to change or cancel a professional learning event due to low enrollment or factors beyond our control. We will attempt to notify registrants to limit customer inconvenience, but we are not liable for any expenses incurred.
Learning Without Tears reserve the right to use all media from this workshop (photos, videos, etc.) in print and online advertising. Please notify us in writing if you do not wish to be included. You must be 18 years or older to attend our professional workshops. Children and infants may not be brought to workshops.
You may cancel up to ten days prior for a $35 cancellation fee.
Additional Information:
Tel: 402.492.2766
Fax: 402.492.2776
Email a Workshop Coordinator