K–5 Handwriting Workshops
Our comprehensive, easy-to-use curriculum uses engaging multisensory techniques and research-based methods to make handwriting a natural and automatic skill for children of all ages and abilities. We use a fun hands-on approach to develop good skills and teach correct letter formation.
The K-5 Handwriting Workshop provides dynamic instruction in the teaching methodology from kindergarten through cursive. Includes an introduction to the developmental progression of written production skills, from handwriting to keyboarding!
It is an intermediate level class.
Approved Provider of Continuing Education by the American Occupational Therapy Association, Inc.
Select from upcoming workshops:
K-5 Handwriting

Objectives
Identify the importance of incorporating the handwriting process, the stages of learning, and active teaching into a handwriting lesson
Model essential foundation skills prior to paper and pencil, including readiness, directionality, positional concepts, and correct pencil grip
Discuss how effective handwriting lessons include developmental and multisensory teaching strategies
Distinguish between our two handwriting assessments, the Screener of Handwriting Proficiency and The Print Tool, to evaluate student's handwriting abilities
Describe common handwriting problems and apply simple, effective remediation techniques
Review the importance of teaching handwriting using current research, the Common Core State Standards, and other standards
Included in K-5 Handwriting
Free Materials:
Letters and Numbers For Me
My Printing Book
Printing Power Plus workbook set
Cursive Handwriting
Cursive Success
Can-Do Cursive
Kindergarten Teacher's Guide
1st Grade Printing Teacher's Guide
2nd Grade Printing Teacher's Guide
3rd Grade Cursive Teacher's Guide
4th Grade Cursive Teacher's Guide
Blackboard with Double Lines
Access to Handwriting Without Tears music resources
Wood Pieces Set for Capital Letters
Mat for Wood Pieces
Slate Chalkboard
Canvas Bag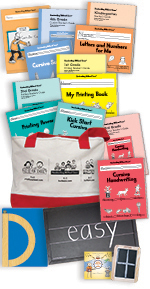 Your Registration Includes:
6.5 Contact Hours
$175 in Free Materials
8:00 a.m.
Registration: Coffee and pastries
8:30 a.m.
Getting Started: Handwriting in today's world, handwriting and the Common Core State Standards, Handwriting Without Tears® philosophies and principles
Foundation Skills: Posture, paper and pencil skills, size, shape and position concepts, preparing for handwriting
Break
Printing Capitals and Numbers: Preventing and correcting reversals, teaching strategies, looking out for lefties
Multisensory Learning: Music and movement, Wet-Dry-Try, Mystery Letters, Door Tracing, Digital Teaching Tools
12:00 p.m.
Lunch on Your Own
1:00 p.m.
Printing Lowercase Letters: Teaching method and sequence, line generalization, word and sentence skills, promoting speed and fluency
Break: Snack and beverage served
Cursive Writing: Cursive style, understanding connections, multisensory lessons, building fluency with Review & Mastery
Resources: Using the teaching guidelines, Handwriting All Year, online resources, remediation
Extra: Special needs, assessment, handwriting standards, Q&A
4:30 p.m.
Adjourn: Certificates of Attendance for 6.5 Contact Hours
Approved Provider of Continuing Education by the American Occupational Therapy Association, Inc.