Pre-K Readiness & Writing Workshops
The award-winning Get Set for School® Pre-K curriculum uses lively music and playful activities to help young children build a solid foundation for school success.
This upbeat workshop introduces a readiness curriculum full of developmentally appropriate activities that teach children about letters, body awareness, numbers, sequencing, and sharing in a fun, engaging, and informal manner.
The Get Set for School Pre-K Readiness & Writing Workshop is an introductory level class.
Approved Provider of Continuing Education by the American Occupational Therapy Association, Inc.
Select from upcoming workshops:
Pre-K Readiness & Writing

Objectives
Plan your instruction based on developmental stages for writing readiness
Model activities that develop important social-emotional skills, including body awareness, taking turns, and sharing
Practice using Wood Piece Play to teach size, shape, and position concepts for pre-writing and sensory motor skills
Identify how music and hands-on play can boost capital and lowercase letter recognition
Experience our step-by-step approach to effectively teach coloring skills
Use Hands-On Letter Play to build beginning habits for letter and number formations
Use My First School Book to help children progress from tracing their letters and numbers to writing their names
Included in Pre-K Readiness and Writing
Free Materials:
Readiness & Writing Pre-K Teacher's Guide
My First School Book Pre-K activity book
Roll-A-Dough Letters®
Stamp and See Screen®
Mat for Wood Pieces
Wood Pieces Set for Capital Letters
Slate Chalkboard
Access to Get Set for School music resources
Canvas Bag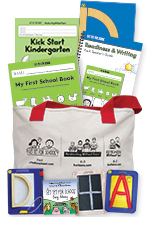 Your Registration Includes: 3.5 Contact Hours $125 in Free Materials
8:00 a.m.
Registration: Coffee and pastries
8:30 a.m.
Get Set for School: The importance of a hands-on multisensory readiness curriculum to prepare children for school success
Pre-K Readiness: Social skills and the developmental stages of writing, hand skills, and crayon grip
Drawing: Mat Man®, shapes, music, and demonstration
Break
Alphabet Knowledge: Hands-on materials, My First School Book, capital and lowercase letter recognition
Colors and Coloring: Crayon skills, developmental progression from scribbling to coloring and drawing
Pre-Writing: Wood Piece Play for capitals, multisensory activities for capitals
Writing: Developmental teaching order, trace capital letters, write names, number skills, and formation
Review and Resources: Review what you have learned, check readiness, additional resources for continued learning
12:00 p.m.
Adjourn: Certificate of Attendance for 3.5 Contact Hours
Approved Provider of Continuing Education by the American Occupational Therapy Association, Inc.