Pre-K Literacy & Math Workshops
The award-winning Get Set for School® Pre-K curriculum uses lively music and playful activities to teach number concepts, geometry, sequencing, phonological awareness, vocabulary, and concepts about print.
Our dynamic Pre-K Literacy & Math Workshop introduces developmentally appropriate activities that are sure to energize your classroom. Discover how our tools and strategies can help you transform potentially complex concepts so they are relevant and enticing for young learners.
The Get Set for School Pre-K Literacy & Math Workshop is an introductory level class.
Select from upcoming workshops:
Pre-K Literacy & Math

Objectives
Demonstrate developmentally appropriate activities for early number, shape, pattern, and math awareness
Demonstrate developmentally appropriate activities for beginning sound, language, letter, word, and literacy skills
Recognize ways to incorporate multisensory, hands-on materials, Discovery Play, and explicit child-friendly teaching in the Pre-K environment
Locate implementation strategies for differentiated instruction, including adaptations for English language learners and advanced learners
Identify how sensory motor and social-emotional activities are embedded within our math and literacy programs
Included in Pre-K Literacy & Math
Free Materials:
Language & Literacy Pre-K Teacher's Guide
Numbers & Math Pre-K Teacher's Guide
A-B-C Touch & Flip® Cards
1-2-3 Touch & Flip® Cards
I Know My Numbers
My Book
Access to Get Set for School music resources
Get Set for School tote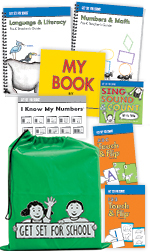 Your Registration Includes:
3.5 Contact Hours
$110 in Free Materials
| | |
| --- | --- |
| 1:00 p.m. | Registration |
| 1:30 p.m. | Pre-K Discovery: The importance of self-directed discovery and explicit instruction and how they apply to playful learning |
| | Developmental Scope and Sequence of Pre-K Math and Literacy: Developmental way of teaching to address different learning styles |
| | Pre-K Number and Math Skills: Multisensory activities and materials to teach children number concepts, geometry, patterns/algebra, numbers and operations, data representation, problem solving, and measurement |
| | Break: Snack and beverage served |
| | Pre-K Language and Literacy Skills: Multisensory activities and materials that teach children alphabet knowledge, phonological awareness, comprehension, writing, and concepts about print |
| | Check Readiness |
| | Apply What You've Learned: How to implement materials and strategies in your Pre-K environment |
| 5:00 p.m. | Adjourn: Certificate of Attendance for 3.5 Contact Hours |