2-DAY Pre-K and K-5 Workshop (3 workshops)
Attend the two Pre-K workshops and the K-5 Handwriting Workshop in this combination. Available in over 100 cities! Register for a combination and get an additional discount. Registration includes hundreds of dollars worth of manipulatives and teaching tools!
The Get Set for School Pre-K Readiness & Writing Workshop is an introductory level class.
The K-5 Handwriting Workshop is an intermediate level class.
Select from upcoming workshops:
Pre-K Readiness & Writing

Objectives
Plan your instruction based on developmental stages for writing readiness
Model activities that develop important social-emotional skills, including body awareness, taking turns, and sharing
Practice using Wood Piece Play to teach size, shape, and position concepts for pre-writing and sensory motor skills
Identify how music and hands-on play can boost capital and lowercase letter recognition
Experience our step-by-step approach to effectively teach coloring skills
Use Hands-On Letter Play to build beginning habits for letter and number formations
Use My First School Book to help children progress from tracing their letters and numbers to writing their names
Included in Pre-K Readiness and Writing
Free Materials:
Readiness & Writing Pre-K Teacher's Guide
My First School Book Pre-K activity book
Roll-A-Dough Letters®
Stamp and See Screen®
Mat for Wood Pieces
Wood Pieces Set for Capital Letters
Slate Chalkboard
Access to Get Set for School music resources
Canvas Bag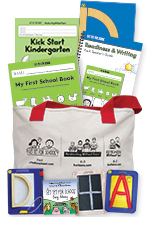 Your Registration Includes: 3.5 Total Contact Hours $125 in Total Free Materials
Pre-K Literacy & Math

Objectives
Demonstrate developmentally appropriate activities for early number, shape, pattern, and math awareness
Demonstrate developmentally appropriate activities for beginning sound, language, letter, word, and literacy skills
Recognize ways to incorporate multisensory, hands-on materials, Discovery Play, and explicit child-friendly teaching in the Pre-K environment
Locate implementation strategies for differentiated instruction, including adaptations for English language learners and advanced learners
Identify how sensory motor and social-emotional activities are embedded within our math and literacy programs
Included in Pre-K Literacy & Math
Free Materials:
Language & Literacy Pre-K Teacher's Guide
Numbers & Math Pre-K Teacher's Guide
A-B-C Touch & Flip® Cards
1-2-3 Touch & Flip® Cards
I Know My Numbers
My Book
Access to Get Set for School music resources
Get Set for School tote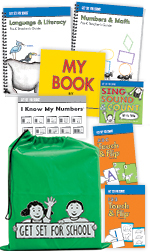 Your Registration Includes:
3.5 Total Contact Hours
$110 in Total Free Materials
K-5 Handwriting

Objectives
Identify the importance of incorporating the handwriting process, the stages of learning, and active teaching into a handwriting lesson
Model essential foundation skills prior to paper and pencil, including readiness, directionality, positional concepts, and correct pencil grip
Discuss how effective handwriting lessons include developmental and multisensory teaching strategies
Distinguish between our two handwriting assessments, the Screener of Handwriting Proficiency and The Print Tool, to evaluate student's handwriting abilities
Describe common handwriting problems and apply simple, effective remediation techniques
Review the importance of teaching handwriting using current research, the Common Core State Standards, and other standards
Included in K-5 Handwriting
Free Materials:
Letters and Numbers For Me
My Printing Book
Printing Power Plus workbook set
Cursive Handwriting
Cursive Success
Can-Do Cursive
Kindergarten Teacher's Guide
1st Grade Printing Teacher's Guide
2nd Grade Printing Teacher's Guide
3rd Grade Cursive Teacher's Guide
4th Grade Cursive Teacher's Guide
Blackboard with Double Lines
Access to Handwriting Without Tears music resources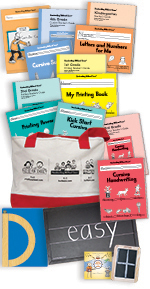 Your Registration Includes:
6.5 Total Contact Hours
$175 in Total Free Materials
Day 1
8:00 a.m.
Registration: Coffee and pastries
Get Set for School: The importance of a hands-on multisensory readiness curriculum to prepare children for school success
Pre-K Readiness: Social skills and the developmental stages of writing, hand skills, and crayon grip
Drawing: Mat Man®, shapes, music, and demonstration
Break
Alphabet Knowledge: Hands-on materials, My First School Book, capital and lowercase letter recognition
Colors and Coloring: Crayon skills, developmental progression from scribbling to coloring and drawing
Pre-Writing: Wood Piece Play for capitals, multisensory activities for capitals
Writing: Developmental teaching order, trace capital letters, write names, number skills, and formation
Review and Resources: Review what you have learned, check readiness, additional resources for continued learning
12:00 p.m.
Lunch on Your Own
1:30 p.m.
Pre-K Discovery: The importance of self-directed discovery and explicit instruction and how they apply to playful learning
Developmental Scope and Sequence of Pre-K Math and Literacy: Developmental way of teaching to address different learning styles
Pre-K Number and Math Skills: Multisensory activities and materials to teach children number concepts, geometry, patterns/algebra, numbers and operations, data representation, problem solving, and measurement
Break: Snack and beverage served
Pre-K Language and Literacy Skills: Multisensory activities and materials that teach children alphabet knowledge, phonological awareness, comprehension, writing, and concepts about print
Check Readiness
Apply What You've Learned: How to implement materials and strategies in your Pre-K environment
5:00 p.m.
Adjourn